Dublin, CA Cosmetic Dentist Explains Invisalign®
Posted by INSPIRE SMILES DENTAL on Sep 28 2017, 02:13 AM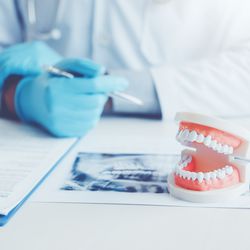 Are you interested in straightening your smile, but don't want noticeable wire braces? Dublin, CA cosmetic dentist Dr. Farhana Rassiwala recommends Invisalign® for adult patients with crooked smiles. At your consultation, Dr. Rassiwala will examine the extent of your misalignment and discuss your smile goals. For some patients, treatment doesn't stop with just Invisalign®. If you want to entirely new smile, our office offers porcelain veneers and teeth whitening treatment to create a brand new, beautiful smile.
At your consultation, cosmetic dentist Dr. Rassiwala explains how Invisalign® works and how this orthodontic procedure will enhance your appearance and improve oral health. Now, you may wonder how a straighter smile will enhance your oral health. Crowded or crooked teeth are hard to clean between, which means harmful bacteria remains in the tight spaces between teeth. Invisalign® corrects overcrowding with a slight pressure that's exerted on your teeth to gradually shift them into proper position. 
If you're interested in learning more about Invisalign®, call 925-833-9500 to schedule your appointment with Dublin, CA cosmetic dentist Dr. Rassiwala today.
What is Invisalign?
Invisalign® is a discreet way for teenage and adult patients to correct minor misalignment. This orthodontic method uses multiple sets of clear aligners to gently shift teeth. Each set of aligners is created from soft plastic. This material is comfortable and hard to notice. Dr. Rassiwala takes dental impressions of your teeth, which the offsite Invisalign® lab will use to design custom-made aligners. She instructs patients to switch their aligners every two weeks.
Aligners should be worn for 20-22 hours a day for dramatic results. Dr. Rassiwala explains to patients when to remove their clear braces. You shouldn't wear your removable braces when you eat or drink anything other than water. Simply pop the aligners out for mealtime and snap them back on when you're finished. Caring for Invisalign® is simple. Your braces should be rinsed daily with clean water and your teeth should be cared for as normal (twice-daily brushing and flossing).
The key to jaw-dropping results is to wear your aligners for the recommended amount of time. Patients that are responsible and committed to the procedure benefit the most from this treatment. Forgetful patients don't usually benefit from clear braces because they either forget to wear the aligners or lose their braces.
When Will My Cosmetic Dentist Recommend Invisalign?

Patients with minor misalignment, slight overcrowding, or small gaps between teeth are ideal candidates for Invisalign® treatment. Cosmetic dentist Dr. Rassiwala recommends this orthodontic treatment to patients who want a discreet, quick fix for a crooked smile. Invisalign® treatment is significantly shorter than traditional orthodontics. Patients can expect to wear their aligners for 9-15 months, depending on the severity of their misalignment.
Once your treatment is complete, you'll have a beautiful, healthy smile that you're proud of show off.

Traditional Braces vs. Invisalign®

Traditional braces involve unsightly metal brackets and wires. Younger patients like the bright color options. However, adults want a more discreet orthodontic treatment. Invisalign® aligners are unnoticeable, yet effective. They're worn for a significantly shorter amount of time than traditional braces and are more comfortable. Aligners are removed for mealtime, which means there aren't any diet restrictions, like there are with metal braces.