So Much More Than a General Dentist
Posted by INSPIRE SMILES DENTAL on Jul 20 2017, 03:06 AM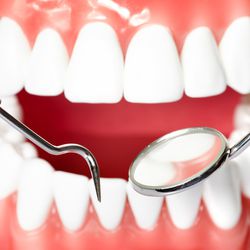 Dublin general dentist, Dr. Farhana Rassiwala, offers more than routine dental cleanings and checkups. She meets cosmetic and restorative needs, as well as emergency dental needs. She's committed to family dentistry; therefore any member of the family can rely on her for seamless dental work. From fillings, bonding, and crowns to Invisalign, veneers, and root canal therapy, Dr. Rassiwala handles it all.
As a family dentist, she is prepared to correct a number of issues. If there's a dental emergency in the family, such as a knocked out tooth, simply call our Dublin, CA office to make an appointment. If you're in need of professional teeth whitening, she creates custom-made whitening trays for a dramatic color enhancement. Regardless of your needs, Dr. Rassiwala is prepared and equipped to offer her patients more than just general dentistry.

Don't hesitate to make an appointment with Dr. Rassiwala today. Our Dublin, CA office can correct any dental issue that arises. We're dedicated to providing top of the line dental care. Speak to one of our friendly staff members by calling 925-833-9500.
Cosmetic Dentistry
Dublin general dentist, Dr. Rassiwala offers cosmetic procedures to improve your smile. A brighter, more appealing smile gives patients the confidence they've always wanted. You're sure to look and feel healthier with a beautiful, new smile after receiving professional teeth whitening treatment at our Dublin, CA office.
Dr. Rassiwala uses porcelain veneers correct a wide variety of issues, such as:

Oddly shaped teeth

Discolored teeth
Misaligned teeth
Broken, chipped, or cracked teeth
Unattractive gaps
The thin shells are composed of porcelain to create a natural looking cover for minor smile imperfections. Each shell is permanently bonded to the front of the flawed tooth.
If you're in need of a straighter smile, Invisalign is a discreet solution. The thin aligners are created from soft, clear plastic and offer simple, comfortable orthodontic treatment for teens and adults. Many patients choose to invest in Invisalign aligners because they provide dramatic results and are easier to care for than traditional braces.
Restorative Dentistry
Broken, chipped, and cracked teeth can be corrected through restorative measures. Dr. Rassiwala offers dental crowns, fillings, and bridges to repair damaged or decayed teeth, which leaves your smile stronger and healthier. Dentures are used to replace multiple missing teeth. The decision to replace your missing teeth helps regain the function, health, and appearance of your smile. Dr. Rassiwala provides partial and full sets of dentures, with or without implant bases.
Emergency Dentistry
Dental emergencies elicit fear and anxiety; therefore it's important to have a dentist that you trust to correct issues. Dr. Rassiwala advises her patients to remain calm during an emergency. The most common issue that we see is a knocked out tooth. In this event, we advise you to locate the dislodged tooth and pick it up by the crown (the white part). Carefully rinse the tooth off with pure water and place it into a clean container filled with milk. Bring the tooth with you to your appointment with Dr. Rassiwala. She will attempt to replace the tooth in the socket, or recommend the best restorative treatment to recover the appearance and function.
Dublin general dentist Dr. Rassiwala is compassionate and kind. Her patients have frequently stated that she is gentle and explains each procedure in a simple manner. Dr. Rassiwala walks her patients through the treatment before beginning and answers any questions. She encourages her patients to discuss any concerns, in order to have a successful and comfortable appointment.

If you want to learn more about the procedures we offer in our Dublin, CA office, simply schedule an appointment today. Call 925-833-9500 today to learn more about Dr. Rassiwala.